If you haven't been a member to Truly Rich Club then you missed a lot of things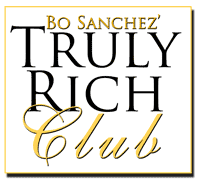 First, you miss the opportunity to gain financial wealth.
For your information Bo's Sanchez' maid is now a millionaire. Why I am telling you this? Well her story is actually one that really inspires me to join TRC. She might be earning good as  Bo's maid knowing that Bo is a generous man. But you know a lot of us are earning more than she does. So if she was able to hit the 7 digit earning after several years of investing at stock market then anyone can do it too. I mean anyone even if you are receiving a low salary. A continuous and consistent monthly investing will surely gain you wealth in the future.
Let me tell you a personal story:
When I passed the licensure exam for Electronics Engineering way back 2004, I applied to different companies where I believed I can apply my knowledge learned during college years and hone my skills in one of those companies.

I applied at different telecom companies, TV stations and even banks. And guess what? Nobody even care to phone me for an interview. So I resend my resume, just in case they didn't get it. And guess what again? Nobody even care to try to interview me. So I told myself, if they will not hire me, then someday I'll be a co-owner of those companies and I will be the boss of those hiring personnel.

Lo and behold, after 10 years I was able to buy shares from 5 different companies where I applied through the help of TRC. Although not a big number of shares but having bought  shares from those companies it feels like at least I owned one of the AC unit in their offices. Funny, but I feel proud of it and my dream never ends there. Someday I will be able to buy larger number of shares that it will feel that I own one of the buildings.
Second, you miss the wealth strategies
A brief life-changing principles and practical "action plans" on how to grow in your financial life. That covers everything—from the universal principles of abundance, to the nitty-gritty stuff, like where to invest and grow your money, to how to protect your wealth, etc.
… and the investment guidance
Investing in stock market can be daunting. If you have no knowledge in it, then it will be hard for you to achieve your financial target. Being a member of TRC you will be given a guide on what company to invest to through the SAM table. They will tell you when to buy, stop buying and sell. And lately they included guide in investing in mutual funds as well. See, in TRC they will teach you to invest in multiple streams of income.
Third, you miss the opportunity to be showered with spiritual abundance.
Being a member of TRC you will receive a daily spiritual enlightenment through God Whispers. It's a like a love letter from God – a one powerful phrase that  will help build your trust in Him.
Aside from God Whispers. Bo also gives powertalks and free ebooks that you can download.
Fourth, you will miss to socialize with great people
Through FB you will meet people who are enthusiastic in guiding you with investing your money. You will also learn from the different interactions made through forums.
Actually you will miss all these blessings….
Blessing #1 Receive 2 PowerTalks every month (instant access via MP3)
Blessing #2 Receive Bo's Success Mentors Collection (1 every 3 months for 1 Year)
Blessing #3 Receive WealthStrategies newsletters every month
Blessing #4 Receive Daily GodWhispers Email
Blessing #5 Receive How To Be Truly Rich Seminar
Blessing #6 Receive How To Conquer Your Goliath Ebook
Blessing #7 Receive How To Turn Thoughts Into Things Ebook
Blessing #8 Earn Passive Income by being Bo's Affiliate in the TrulyRichClub
Blessing #9 Earn Passive Income with Bo's other Internet Work
Blessing #10 Receive My Very Practical Ebook, My Maid Invests In The Stock Market…And Why You Should Too.
Blessing #11 Receive My Stocks Update.

Truly Rich Club Version 2.0

Blessing #12 Term Life Insurance of One Hundred Thousand Pesos
Blessing #13 Newly-improved TrulyRichClub Mobile app with financial calculators
Blessing #14 Exclusive Facebook Group
Blessing #15 Monthly Mastermind Meeting
Blessing #16 TRC affiliate page with email swipes and banners
To learn more about Truly Rich Club check their website.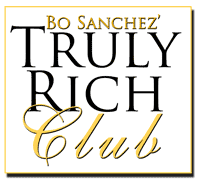 I've been a member for 30 months only, my biggest regret is that I didn't join the club earlier. I delayed to claim all the blessings. But better late than never tried to invest in stock market. Now, with TRC, I feel more secure about my future.
My only advise for you, do not think twice. Be part of the growing  millionaire of Truly Rich Club and receive all the blessings so that you too can be a blessing to others.